Al Qasba, Sharjah's popular family and tourist destination, will once again host the International Festival – Competition "Kalinka 2015", bringing Russian and Polish dance and vocal groups to UAE audiences from November 5th to 6th. The two-hour event, from 7:30 p.m. onwards, which is set to take place outdoors in block (D) of Al Qasba is open to the general public and will be comprised of several traditional folklore dance and music ensembles.
The show will include the exemplary dance ensemble VESNUSHKI from the Irkutsk region of Siberia—a 45-year old ensemble that focuses on folklore dances displayed by a team of more than two hundred girls and boys aged 2 to 18; the municipal ensemble RUSSIAN RUZDOLIE, which consists of nine young singers performing folk and popular Russian songs; and the Children's Choir of the West – Pomeranian University of Technology DON-DIRI-DON, which comprises 11 to 16 year olds specialised in singing well known international choir tunes such as Bob Chilcott's 'Can You Hear Me?', 'The Song of Crocodile' and 'Mamma Mia'.This celebration of Russian and Polish heritage is not only bound to entertain local and expat visitors alike, but inspire audiences to visit Al Qasba's future arts and culture events and take further interest in global music."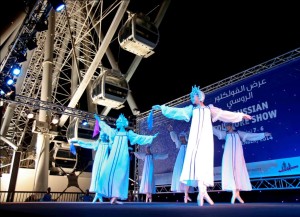 Donned in handmade national costumes, the performers are poised to mesmerise visitors who will have an inside look on Eastern European culture through captivating movements, colours and sounds that highlight Russian and Polish tradition and history.
Al Qasba prides itself on giving its visitors the opportunity to enjoy culture, entertainment and leisure attractions representing the very best from the Arab world and beyond, as well as being an outstanding family-friendly venue with a range of activities that caters to people from all walks of life.
Al Qasbaboasts a range of state-of-the-art facilities and tourist attractions including, among others, various restaurants and cafes, the 250-seat Masrah Al Qasba theatre, Multaqa Al QasbaConference and Meeting Halls, Al Qasba Business Centre, Kids Fun Zone, Al Qasba Musical Fountain, the Eye of the Emirates Wheel, and Maraya Art Centre.