Kalimat, the Sharjah-based publishing house dedicated solely to publishing high quality Arabic children's books, in collaboration with the UAE Board on Books for Young People (UAEBBY), recently celebrated "Hag Al Leila" with students of the Australian International School in Sharjah.
The three-hour programme included a number of cultural activities for the night of Mid-Sha'ban, in addition to reading sessions aimed at promoting a love of reading, and arts and crafts, which allowed children to demonstrate their skills in making bags and other Hag Al Leila gifts.
Speaking on the occasion, Tamer Said, Managing Director of Kalimat Group, said, "Many children in the UAE celebrate Hag Al Leila, a cultural day and opportunity to encourage children to read Emirati heritage-inspired stories and ancestral folk tales. We were pleased with the positive response from students of different nationalities to the exciting reading sessions."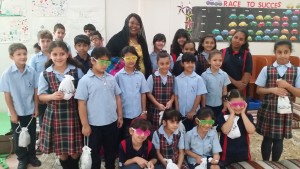 The students enjoyed reading sessions of two of Kalimat's books; the first was Mithana's Chicken (Dajajat Mithana), which is based on Emirati culture and addresses the topic of loneliness. Written by Abdulaziz Al Musallam, the book tells a story of a lonely old woman who suffers from isolation and prays to have a mate. Finally, she raises a chicken and cares for her like a daughter. The book teaches students the values of treating people with kindness and compassion.
The second book, Abdulaziz Al Musallam's 'Ghaya and the Snake' (Ghaya Wal Haneesh), tells a classic tale of the lovely Ghaya who fares badly at the hand of her stepmother but finds an unlikely saviour in a snake she encounters and takes pity on. The snake turns into a handsome young man who had been cursed by a wicked wizard. Ghaya and the man get married, and live happily ever after.
Kalimat Group is comprised of Kalimat, the first publishing house in the UAE dedicated solely to publishing and distributing high quality Arabic children's books. Having released over 160 publications since its establishment in 2007, Kalimat focuses on producing books that children of the UAE and the region can relate to, with vibrant illustrations and stories that talk about the value of family, friendship, simplicity and happiness.
Horouf, another imprint of Kalimat Group, was established in 2013, and is dedicated to publishing printed books and smart applications that offer a modern integrated education system in the Arabic language that is first of its kind in the Arab World. Horouf's solutions aim to pioneer a fresh, fun, and modern approach to Arabic education that helps build and develop the mental capacity of students.