Driven by the booming retail industry in the UAE, Mega Mall has launched a new promotional campaign, running from May 20th to August 20th, to reward lucky customers with a range of prizes including two brand new Porsches.
The promotional campaign comes as the UAE retail sector witness's record breaking spending. The growing consumer culture continues to significantly stimulate the tourism sector, the UAE's prominent forte, rendering it one of the world's fastest growing tourist destinations, which in turn further fuels the retail sector.
In this context, Mohammed Sorour, Marketing Manager of Mega Mall, one of the Sharjah's leading shopping malls located in the heart of Sharjah, said the retail business sector hit record-breaking levels in terms of sales in the last few years, imminently due to the gigantic development and economic growth rate, which the country continues to witness in all economic aspects. He stated: "Shopping centers and malls reflect the true driving force behind the retail sector and the tourist section as a whole, as the number of retail stores increased sharply by the property boom, attracting millions of international brands."
Highlighting the unique shopping experience at Sharjah's landmark retail and leisure destination, the new Mega Mall campaign also offers additional lucky shoppers a wide range of exciting prizes throughout the promotion. To be in with a chance of winning, every visitor to the mall  spending AED 200 at any of the 150 retail stores, encompassing the most popular international, regional, and local brands, will be entered into the prize draw.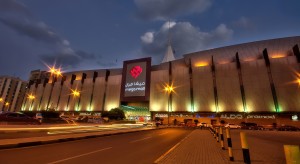 "Conceived as a world-class destination, Mega Mall is one of the UAE's most pleasurable shopping, dining, leisure and entertainment locations. It has introduced Sharjah to the international arena and continues to dominate in the retail and leisure sector, for this reason, our loyal shoppers are being rewarded for their role in the malls success with the opportunity to win the most extravagant prizes". Sorour added.
The campaign pre-draw takes place on August 23rd, whereby a representative of Sharjah Economic Department will select 8 finalists from a raffle – the finalists will then be invited to attend the grand raffle draw, held on August 27th, to determine the final winners of the grand prize via a unique game-show. There will be 2 winners at the grand draw, each driving home in a brand new Porsche.  The event will also be marked with special entertainment and dance performances to entertain the crowd and discretionary awards.
Mega Mall is conveniently located in Sharjah is becoming one of the leading retail destinations in the UAE. The mall covers 800,000 sq. ft. spanning across four floors and boasts a wide diversity of luxury outlets featuring 5 anchor stores including: Zara, Mango, Sephora, Sharaf DG, Mega Mart, 7 Novo Cinema screens, Antic's Land family entertainment centre and a food court with over 15 outlets.